Indian spiced garbanzo beans stew
Chole is simply seasoned garbanzo beans and a family favorite. As garbanzo beans are grounding, they are an ideal Fall and Winter meal. However, if you are feeling heavy or your digestion is low, don't have them or don't have too much.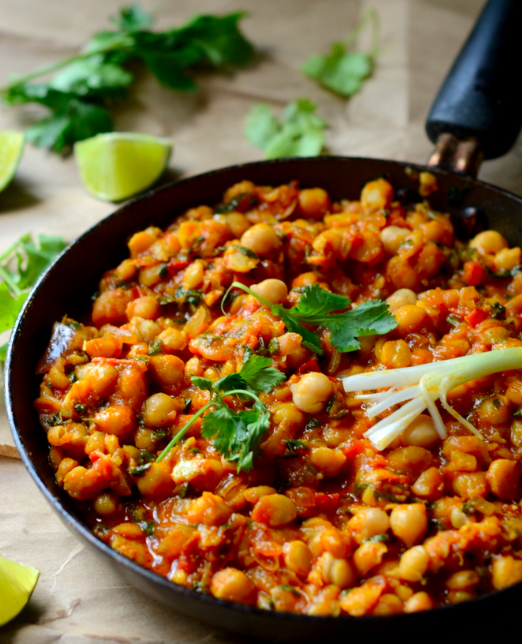 I love to use dried beans as they add a structure to the dish, but for an easy weeknight meal, canned beans will work just as well.
Serves 4 to 6, with enough for leftovers
Ingredients
2 ½ cups dried chickpeas or two cans
Fresh water to soak the chickpeas
2 to 4 shallots or one medium red or white onion
2 to 4 teaspoons of salt
1 fresh green chili — use to taste, starting with less
2 to 4 inches of peeled grated ginger
One whole squeezed lemon, more to taste
1 cup of pureed or crushed tomatoes or 2 small chopped tomatoes
Spices
3 to 4 tablespoons ground cumin
1 tablespoon turmeric
½ tablespoon ground chili, depending on spice preferences
2 teaspoons garam masala
Instructions
Soak chickpeas overnight in water. Wash and cover by several inches of water, add bayleaf, and bring to a boil. Lower heat and simmer gently for about an hour. Depending on the beans and how fresh they are, it may take up to two hours. Taste the beans, it should have a "bite", similar to al dente pasta.
In a large pot, heat several tablespoons of ghee, butter, or oil on medium. When hot, add the chopped onions. Stir and cook for 8 to 10 minutes, letting them color but not burn. Add in the grated ginger, cook for a minute. Turn the heat to low add the ground spices (turmeric, cumin, and chili). Enjoy the fragrance. This is usually when I take a moment to immerse the food with love and gratitude. Add the tomato — crushed or chopped. Let the tomato cook slightly and absorb all the flavors — a couple minutes. I like to add some salt now, as layering the flavors brings the depth.
Add the chickpeas and 1 to 2 cups of water and simmer on a low flame for 20 to 30 minutes. Taste for salt and ginger. Adjust to your palette.
Add chopped cilantro, 2 teaspoons of garam masala, and one whole freshly squeezed lemon. I love ginger, so I usually grate a little more fresh ginger on top.
Of course, the classic way is served with rice but it's quite tasty plain or with a salad or cooked greens. Pairs well with raita or plain whole milk yogurt.
Notes
In Indian cooking, the spices need to "bloom", what we call a "vagaar" in Gujarati. Simply, this means heating ghee or oil, adding the ground spices together to open up. Next, this is added to the main dish.